As you go through a traumatic experience, your soul splits or fragments. This can be a sign of your spirit breaking and this allows dysfunction and patterns of behaviour to form. You may feel like you can't cope and it triggers fight or flight mode. 
The my secret self series takes you on a journey with me which uncovers the conditioning's I experienced as a child and the traumatic experience that unveiled from an early age. My understanding of these experiences didn't impact me until my late 40's when I started to question what happened. 
My Secret Self leads you through a personal life experience and a perception of reflection and change which occurred later in life. When I had the  freedom and be open to the spiritual journey that awaited me and was always calling me throughout my childhood and marriage, I was able to heal and understand the reasons behind what had happened. Follow my journey as I unfold the story of this personal history. 
Trials and Tribulations of an Innocent
My Secret Self 1: Trials and Tribulations of an Innocent is book 1 of 7.
My Secret Self is an inspirational and powerful memoir of one girl's life. Her painful struggle and abuse.Through observing her life and realising it shouldn't be this way.
My Secret Self tells the story of discovering how she had been manipulated through pretence and lies. Impacting her childhood through the behaviours of her grandmother, who manipulated her young family to hold them with her because she was scared to be alone. How she escaped her painful world by seeing the magic in nature and how nature could be trusted when no one else could be.
My Secret Self is a warm-hearted, honest and gratifying tale of overcoming hardship.
My Secret Self pulls no punches; A frank and honest account of abuse of all forms.
A rare, intimate and nostalgic journey of her past.
At its core it's a heartwarming story of perseverance. A story of hope.
I thoroughly enjoyed reading Christine's book, her story. From the very first words, I was captivated and I couldn't stop reading about her life – her experiences and inner thoughts that have made her the person she is today. It's an extremely personal, honest and open story. I feel I have relived it with her. It has made me think about my life differently and has opened up my mind to what has happened and is happening in my own life. Thank you Christine for sharing this part of your life and for opening my mind to my life. I can't wait for the next part of your story.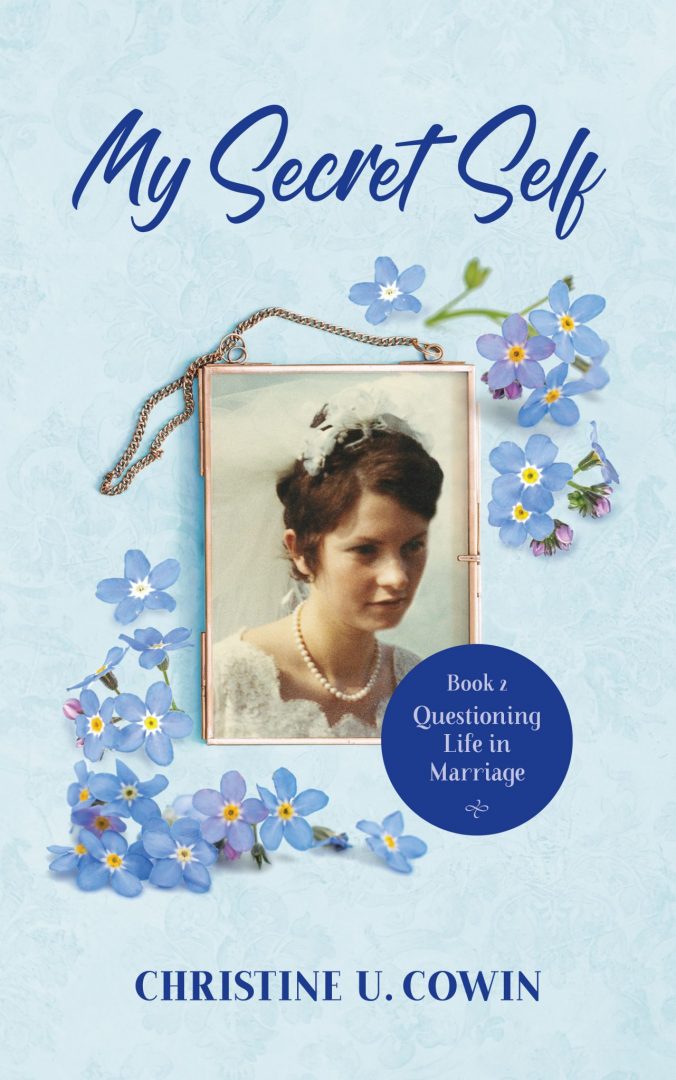 Questioning Life in Marriage
My Secret Self 2: questioning life in marriage is the second of 7 books. 
My Secret Self is about a woman's realisation that she had followed in the family footsteps and marrying into a relationship that represented all the personalities of her family. Caught in the preconceived expectation to be a wife and mother without a voice. This was the life forced on her. 
My Secret Self is one woman's struggle to discover the woman she is, not who she is being told to be. Her struggle. Her pain of feeling suppressed and lost. Her determination to awaken her true life's purpose that was calling within however it wasn't the right time. It wasn't the right time to put herself first. 
At its core, My Secret Self is a story of perseverance. 
Despite having so many challenges to deal with, Spirit kept calling her to recognise who she really was and to live for herself and not others.
It's her will to break free of the life that is being dictated to her and to discover her true path.   
An inspirational, hard-hitting and often moving account of one woman's battle to find a better life through adversity. 
This is one of the most encouraging and enlightening books I have read. It is empowering to read, giving courage to women to put themselves first. The narrative is very gentle. Christine doesn't use any harsh words and keeps her tone light at all times. Read more…